Announcing the BAWIB CDL Driver Training Program
The Brockton Area Workforce Investment Board (BAWIB) is pleased to announce the BAWIB CDL Driver Training Program. The program, developed through a partnership made up of BAWIB, CareerWorks/UMASS Donahue Institute, local employers, Teamsters Local 653 and the Parker Professional Driving School will look to train 24 unemployed residents for employment as CDL Class A or Class B Drivers over the next eighteen months.
Participants in the CDL Driver Training program will work closely with BAWIB, CareerWorks and Parker Professional Driving School to receive customer service training along with either a three or six week driving course. The training will help them to develop occupational skills needed to attain the Class A or Class B driver's license and employment as a truck or coach bus driver.
Employer partners A & A Metro Transportation, Brilliant Move, East Coast Transit/Brockton Area Transit (BAT), UPS and T & K Asphalt represent a wide range of businesses in our region, giving program graduates a diverse selection of employment opportunities.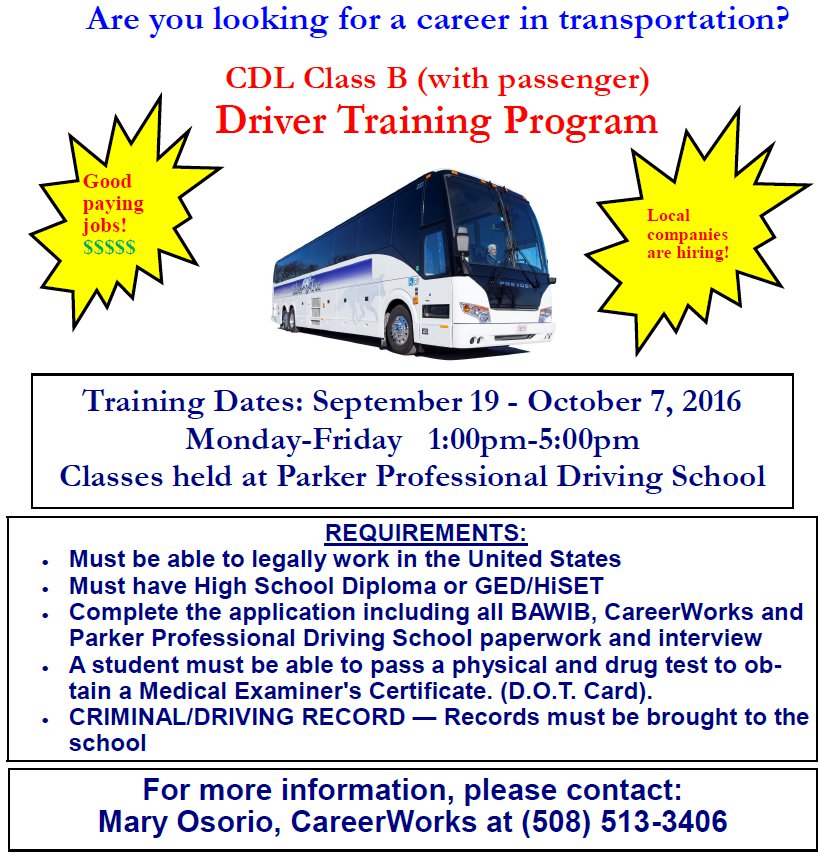 This project is funded by a Workforce Competitiveness Trust Fund FY'16 Appropriation grant through the Massachusetts Executive Office of Labor and Workforce Development and is administered by the Commonwealth Corporation. It is one of fourteen regional partnerships throughout the state that includes businesses, educational institutions, community based organizations, and workforce development groups, collectively helping prepare more than 370 unemployed and/or underemployed Massachusetts residents with additional skills and job training for in-demand occupations.
The next training for CDL Class B Driver will take place from September 19 – October 7, 2016.  All interested candidates must contact Mary Osorio at CareerWorks at 508-513-3406 to learn more about the process for enrolling in the training.